Let me briefly introduce our company.
Carruajes Pérez Cervera SL born in 1980 in the town of Láchar, province of Granada (Spain). We are a small family company that manufactures handmade horse carriages with the highest standards of quality and reliability. Our products are made with the best components and finished with the best finishes. The goal is that our customers enjoy a nice walk on a horse that everyone admired.
Our commitment to our land and culture makes us faithfully reproduce the typical Andalusian carriages and can be seen in the most important fairs such as Seville or Jerez de la Frontera ETC.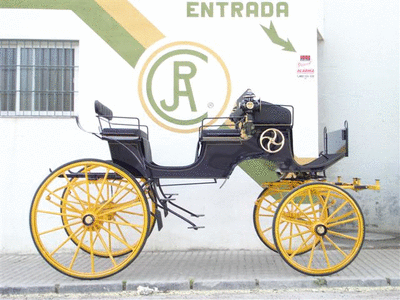 Quality and Warranty
Carruajes Pérez Cervera SL is a craft factory horse-drawn carriages located in LÁCHAR, GRANADA.
We produce any model according to customer requirements; we advise on the model and design that meets your needs.
Each carriage is manufactured and individually serialized. Our models are guaranteed for 2 years from the date of purchase.
Our carriages are characterized by being resistant (road), easy to use, maintenance free, apart from being aesthetically elegant and fine finishes, FULLY NATIONAL.
Our staff is highly qualified for all kinds of coaches, both wood and iron.